Shri Mangitungiji Digambar Jain Siddha Kshetra, Mangitungi, Maharashtra (Siddha Kshetra)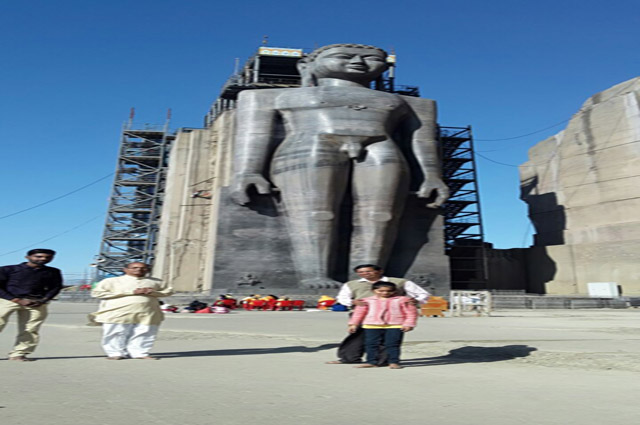 No of Temples: 21, Pahaad/Mountain: 2, (Mangiji and Tungiji), 3500 steps, Doli is available. Historical importance: It is well known as Southern Shikharji. It is salvation place of Shri Ram, Hanuman, Sugriv, Sudeel, Neel, Mahaneel and 99 crore Munis. It is austerity place of Seetaji from where she destroyed here femininity and born in 16th heaven Pratindra. The place also witnessed death and cremation of Shri Krishna. Aaryika Gyanmatiji motivated constructs of 108 feet tall idol of Lord Aadinathji. She also constructed a Sahatrakut Temple. The ancient and pre historic Temple are on 2 mountains namely Mangiji (9 temples) and Tungiji (4 Temples). 7 Temples at base has 1083 idols. Also there is miraculous idol of Vishwa Hitankar Satishay Chintamani Parshwanathji. The kshetra has largest (21 feet tall) idol of Lord Munisuwratnathji in India. Annual Fair: Kartik Shukl Poornima (after Diwali). Special Information: Anointment on the day of Shani Amawasya (No Moon of Saturday).
Tirth Location Details:
A/P:- Mangitungi
Tal:- Satana
Dist:- Nashik
State:- Maharashtra
Pin- 423302
Tirth Lodging Facilities:
Rooms:- yes
Hall:- yes
Guest House:- yes
Ground For Tent:-
Mess:- yes
Contact No:- 02555-242519, 09422754603, 07588711766, 09890122799
Transportation Facilities:
Railway Station:- Manmad: 100km.
Bus Stand:- Taharabad: 11km.
Straight Root:- Manmad: 100km, Malegaon: 65km, Nashik: 125km, Dhule: 100km. by bus.
Nearest City:-Manmad: 100km, Malegaon: 65km, Nashik: 125km, Dhule: 100km.